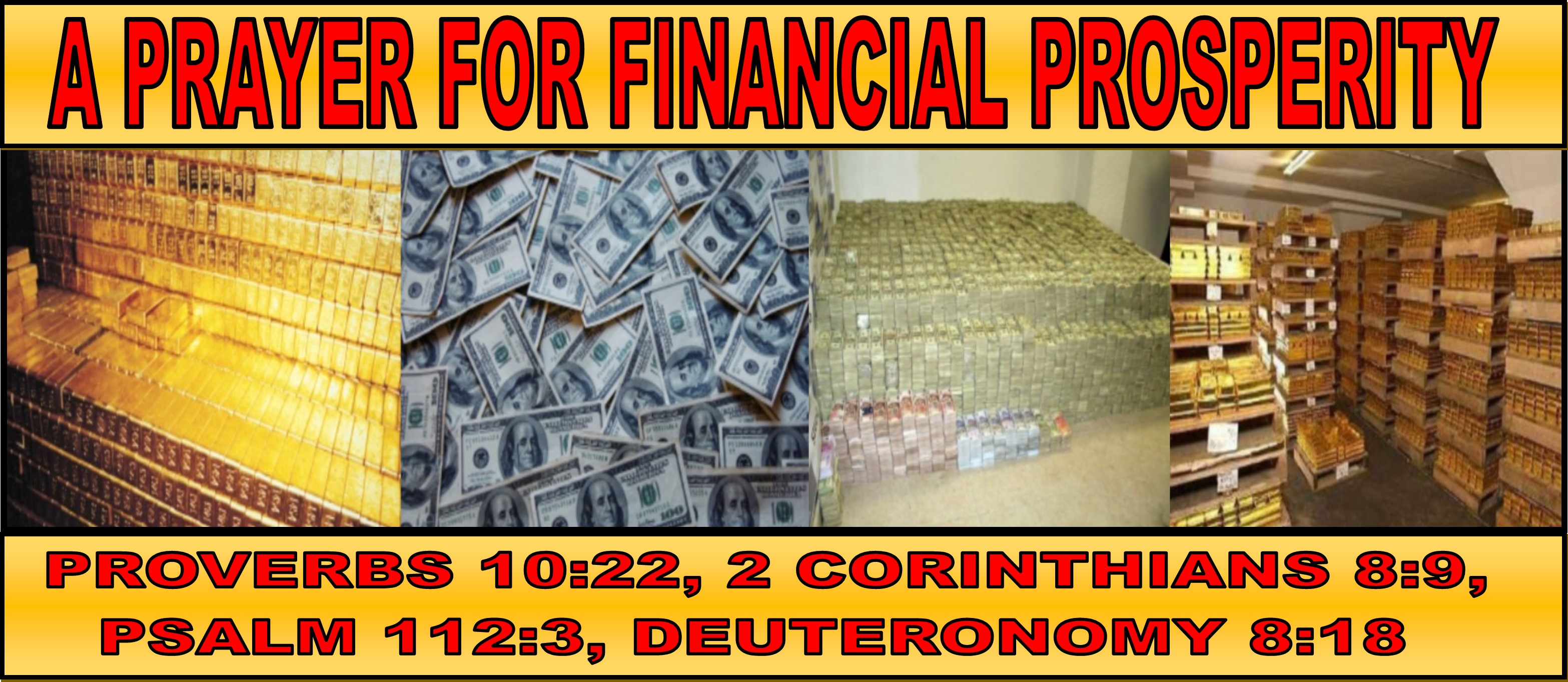 A PRAYER FOR FINANCIAL PROSPERITY
Heavenly Father, I thank you for our covenant. Thank you Lord that you are a covenant keeping God. Thank you that you keep your covenant unto a thousand generations, and I thank you that when I call upon you, you will hear me and answer me. Father, I thank you for giving me the desires of my heart as I delight to both know and do your will. Lord, your word says in 2 Corinthians 8:9; "For you know the grace of our Lord Jesus Christ, that, though he was rich, yet for your sakes he became poor, that you through his poverty might be rich." So Father God, I take you at your word, and I further put you in remembrance of what you said in Proverbs 8:17-21. You said, "I love them that love me; and those that seek me early shall find me. Riches and honor are with me; yea durable riches and righteousness. My fruit is better than gold, yea, than fine gold; and my revenue than choice silver. I lead in the way of righteousness, in the midst of the paths of judgement: that I may cause those that love me to inherit substance; and I will fill their treasures." Lord, let your will be done today in my life, my family, this nation, and in every believer's life around the world right now. I decree and declare that I am now prosperous according to your word. The word declares in Proverbs 10:22; "The blessing of the Lord, it makes rich, and he added no sorrow with it". I thank you that the blessing of the Lord has made me rich, and I have no sorrow with it. Thank you Lord that I am blessed coming in and I am blessed going out. I am blessed in the city and I am blessed in the field. The blessing of Abraham is on my life through Jesus Christ. I am the head and not the tail. I am the lender and not the borrower. I lend unto many nations, and I do not borrow. I thank you Lord that you have commanded a blessing upon my storehouses, so all my barns are filled with plenty and my presses burst out with new wine. I am blessed to be a blessing. Wealth and riches are in my house now, in Jesus name.
This prayer was based on the following scriptures; Deuteronomy 7:9, Deuteronomy 8:18, 1 John 5:14-15, Psalms 37:4, 2 Corinthians 8:9, Proverbs 8:17-21, James 5:16, Proverbs 10:22, Deuteronomy 28:1-14, Galatians 3:13-14, 26 & 29, Proverbs 3:9-10, and Psalm 112:1-10. You have to call those things that be not until they become and appear in your life. Keep on saying this prayer by faith until you believe what you are saying and faith lands in your life.
Financial counsel from the Word of God: Please keep in mind that this prayer will work for you, but you have to be in faith and participating in God's financial system of tithes and offerings and firstfruits in order to free your life of any curses on your life or financial curses that comes from you robbing God of the tithes and offerings according to Malachi 3:8-9. Malachi 3:10-12 tells you how to get from up under that financial curse. Luke 6:38 and 2 Corinthians 9:6-15 also backs up what is being said about God's financial plan for your life. In the New Testament, Jesus tells you clearly in Matthew 23:23 and Luke 11:42 not to leave the tithing part of your kingdom duties undone, so it is not just an Old Testament thing like so many misguided preachers have said. Tithing is a law of God, not just a Law of Moses. Even in the Garden of Eden, there was a portion for Adam and Eve not to touch, which was the tree of the knowledge of good and evil, because that was a type of tithe that was set apart and holy to God. By you touching what is God's portion, it will always cause some financial disruptions in your life. See Genesis 2:15-17 and Genesis 3:9-19. The tithe is very holy unto the Lord according to Leviticus 27:30-32, so you must honor him with it and give it back to him. Many people in life foolishly still look at the tithe as their own money, but ten percent of everything you get, money wise, belongs to God and must be given back to him. Proverbs 3:9-10 already tells you to honor the Lord with your substance, which is your money, and your barns, which can also be your bank accounts, will be filled with plenty. If your barns are not filled with plenty, then check your obedience to the Lord to see if you are really honoring him and being consistent. He has financial rules to follow. Many people want something for nothing in life. They want God's blessings, but they do not want to give money in order to access those benefits for their lives. Proverbs 11:24 makes it clear that if you hold back on God, then it brings you into poverty, but when you are generous, according to Proverbs 11:25, then you are made to be fat and to have plenty. If you are slothful in your giving and honoring God with your tithes, then that explains the financial dilemma in your life, but you have the power to fix it yourself. Financial matters is never a prayer issue alone, but it is a 'tithing' and 'giving of offerings' to God issue, which amounts to a disobedience issue on your part. You have the power to fix your own financial situation by participating in tithes and offerings and giving it back to God so that he can have something to work with and to multiply. You also have to have a business or some form of investments or a way for God to multiply your finances back to you in addition to your giving and tithing, etc. Nothing from nothing leaves nothing. If you give nothing and do not tithe, then you will have nothing, and everything goes right back out of your hands as fast as you give it. See Haggai 1:2-14. The problem never lies with God, because he is faithful to do what he said and to do his part, but the problem can always be traced back to the individual person and what they do or don't do concerning giving their tithes, offerings, and firstfruits back to God as he has provided an income for them, whether that be through a business, a job, investments, inheritance, or by some other means. His financial system can never be ignored and think that you are going to fully prosper the way that he intends for you to prosper. You cannot prosper without him. Fix your financial dilemma yourself, not to be seen of men or for show or any praise on your part either. See Matthew 6:1-4. According to Luke 18:12, even the Pharisees that don't even know the Lord have sense enough to tithe, so what's the problem with God's people? Many of you want a ton of money and a whole truck load of blessings, but you don't want to give God none of your money, and he is the one that is responsible for allowing you to get that money by giving you life, health, and strength to do so. See Deuteronomy 8:18 and then Ecclesiastes 5:18-20.